How it works!
This new innovative idea allows you to create the perfect DVD! Order only the titles you want and have them all on one DVD! Here's how:
Select the titles you want. You will be taken to the preview page. From here, click the Add To DVDBuilder button.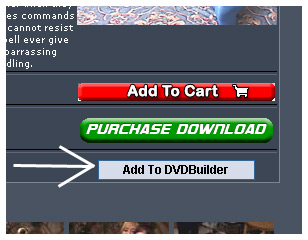 You will be taken back to the DVD page. On the upper right hand side, you can see your DVD in progress and how much space you have left.
You'll notice that the prices don't actually add up to 49.99. Thats because the DVD Builder will keep adding the price until it goes over 49.99. DVD Builder will then adjust the price to 49.99 as a discount. You can either stop there or keep adding more titles. The discount will remain, and the additional titles will be added at their regular price.


You can check your DVD and make changes at any time by clicking the View DVD button.

When you are finished, simply click the View DVD button, finalize your selections, and check out like you would with a shopping cart. Your DVD will be shipped within 3 days! It couldn't get any easier!